Interested in a Franchise?
Powerflow has 23 fitment centres across South Africa. Many franchisees have been part of the Powerflow family for more than 10 years. If you have a site and would like to join the Powerflow family read through the details below.
Powerflow Franchising
1) Why Be Part of the Powerflow Exhaust Family?
– With over 25 Years of experience Powerflow Exhausts are specialists, with a well developed, tried and tested business model.
– Powerflow high quality silencers are manufactured to international specs in our own factory for exclusive supply to Powerflow fitment centres.
– Be part of a national network sharing information and ideas amongst each other.
– A national brand that customers recognise and have confidence in.
– Powerflow Exhausts offers a franchisee package for the entrepreneur wishing to start up a new business with tried and tested products and business systems.
– Once a Powerflow franchisee you will receive all the assistance and support from the Powerflow head office.
2) Is Powerflow Exhausts Right For You?
– As a Powerflow Exhausts franchisee we are looking for a hardworking entrepreneur who can work within the discipline of a tried and tested system and can thrive on the creative support of others in the Powerflow Exhausts franchise family.
– Potential franchisees must be motivated, enthusiastic and have a passion for cars.
– As with any business venture, ultimately success will depend on your performance as a franchisee, remembering that you are in business for yourself but not by yourself.
– The key element of the Powerflow franchisee relationship is Loyalty to the Powerflow brand
3) What You Need To Know
– We use a business franchising format. This means the franchisor (ETC Components PTY (LTD) grants a Powerflow Exhausts franchise to you, allowing you to trade under the Powerflow Exhausts name according to the franchise agreement.
– Make use of an entire business system with continued support on an agreed basis.
– The person, who has been granted the franchise and has paid a once off joining fee , is known as the franchisee.
– The key element of the arrangement is loyalty to the brand, strict adherence to the agreed standards and procedures for the franchise, as listed in the franchise Operations Manual.
– The franchisee is required to conduct the business in accordance with these agreed standards and procedures.
Steps to owning a Powerflow Exhausts Franchise:
1. You need to have a site or area where you would like to open a Powerflow franchise.
2. You will need a minimum of 50% unencumbered income available, and an approved financial plan from a financial institution.
3. Contact POWERFLOW Head Office to discuss acquiring a franchise (The above two points need to be in place) 031 468 2643
4. Complete the application form (found on this page below the main banner on your right) and submit to Powerflow Exhausts Head Office (bruce@powerflowexhausts.com) . A credit check will be done at this stage
5. Acceptance will be granted/rejected based on the information supplied in the application form and based on the credit check results
6. Submit a business plan including budgeted turnover/expenses. Regarding set up costs, first month rentals , wages, opening stock purchase and landlord deposits must be taken into consideration
7. If more than one applicant is considered for a particular area, then Powerflow Exhausts Head Office reserves the right to allocate the franchise to the best-suited applicant
8. On the signing of the Franchise Agreement, the Franchise Fee must be paid
9. Powerflow Exhausts Head Office will provide the new franchisee with details of the store layout, equipment requirements and shop fitting
10. Training of all staff must be completed prior to opening of the store. Powerflow has its own in store training program
11. The Franchisees are responsible for all travelling and accommodation costs during training; training is for a minimum period of 2 x weeks
12. All Powerflow opening stock must be paid for by the franchisee COD .
13. On opening, advertising and promotions, such as planned opening specials, advertisements local newspapers, pamphlets etc. will be discussed with the franchisee and supported by Head office.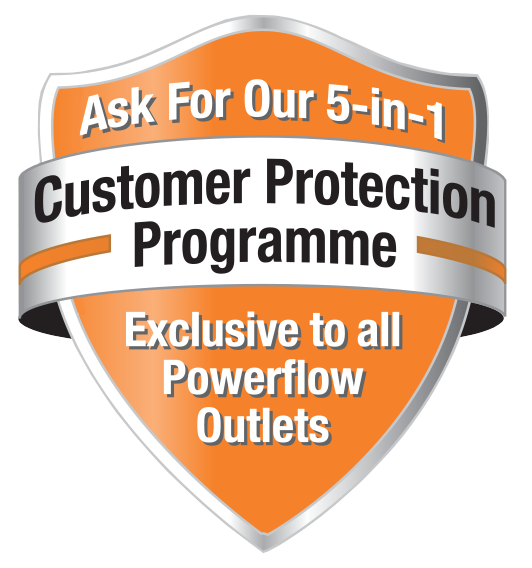 5 Year Guarantee
As South Africa's Leading Stainless Steel Exhaust manufacturer, we confidently offer the best Guarantees on our products. All Powerflow stainless steel silencers carry a 5 Year Guarantee, supported by an amazing National dealer network. T's & C's apply.
customer protection
Our 5-in-1 customer protection program, exclusive to all Powerflow outlets.
Made in SA to international standards
5 Year guarantee on all stainless steel silencers
National guarantee network